Alumni
Click here to sign up for an account on our website.
You are more than welcome to sign up on the site. In addition, please feel free to contact our Alumni Relations chair, Ross Berger (bergerrr@miamioh.edu) as it would be great to hear from you.
Also, check-in over at the Gamma Upsilon Chapter of Delta Tau Delta alumni page (http://www.miamiudelts.com).
Prominent Miami University Delt Alumni
RICHARD FARMER (1956) -- Currently the Chairman of Cintas Corporation; Farmer School of Business at Miami University named in honor of him

JOHN ALTMAN (1960) -- Owned, founded, and/or was a partner in eight businesses, two of which were sold to multi-national companies; Served as senior manager of the multi-national corporations, Rohm & Haas and ICI; Altman was the first person to be inducted into the Miami University Academy of Entrepreneurs.

LEWIS DESCHLER (1926) -- Parliamentarian of the U.S House of Representatives longer than any other man in Congressional history; 1971 winner of the John McCormick Award of Excellence for his contributions to American legislation

PAUL RYAN (1992) -- Speaker of the House, 2012 Vice-Presidential Candidate

BILL HEMMER (1987) -- Current daytime anchor on Fox Network News

CHIP CHINERY (1986) -- Stand up comedian and actor who has done hundreds of commercials and TV appearances; also has appeared on the "Last Comic Standing" series

AL HODGE (1934) -- Television's "Captain Video" from 1949 to 1955 after being the radio voice of "The Green Hornet" on radio from 1936 to 1943

CARMEN COZZA (1952) -- Former Yale head coach (1965-96) and winner of 179 games; Inducted into College Football Hall of Fame

RAY MEARS (1949) -- Head basketball coach at Tennessee and Wittenberg; winner of 399 games; former athletic director at Tennesse-Martin

JON MILLER (1978) -- NBC Sports senior vice president for sports programming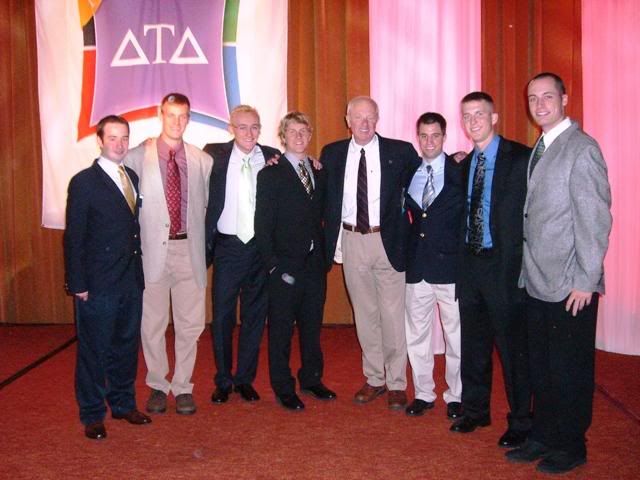 John Altman (1960) with Brothers from the Gamma Upsilon Chapter at the 2008 Karnea